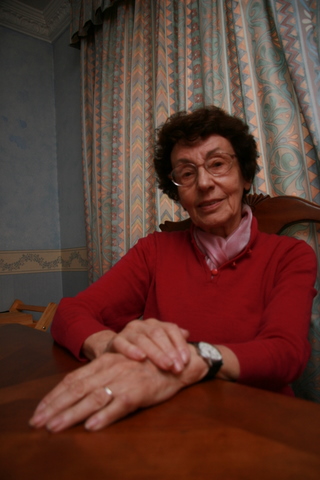 Back to search results
Lady Margaret Kagan
Lady Margaret Kagan, wife of the late Sir Joseph Kagan, who was close to Prime Minister Harold Wilson in the 1970s, tells how she and Joseph escaped the Holocaust and came to Bradford and how her husband made his name with Ganex raincoats. This is an edited extract from a much longer interview. (Interview and Photograph, David David)
How did you come to Bradford and why Bradford?
I spent my childhood in Lithuania, which got its independence in 1918, in Kovnov. I lived through the Soviet occupation and through the Nazi occupation, and survived in hiding, before which I had met this extraordinary human being, called Joseph Kagen, and we were married and we went into hiding out of the ghetto in 1943. Again we managed to survive all the pitfalls that we managed to escape from, and Joseph's family was already living in England. Joseph's father was in textiles and his brother would do the buying for him, and during the war ... various members of the family had come out before the war and were in England trying to get everyone else over -- Joseph had studied textiles in Leeds but was sent back to Lithuania to help his mother wind up the business there and was caught by the Nazi occupation... After the war having survived we left in January 1945 overland, with Joseph's mother, and in May we got to Romania ... so we stayed for about a year in Romania trying to get a visa to go to England. My father in law was living in Shipley, and his sister and the uncle were all in Bradford and so we joined them.
Has the Jewish community changed a lot from when you were younger?
When I came there seemed to be quite a vibrant Jewish community; there were two synagogues both seemed to be functioning. My father in law belonged to the Orthodox community and there was also a Reform community, which eventually when we had children we joined; and there were young people, and people going to cheder. Today, I don't often go to synagogue but when I do go, there are three people; and at High Holidays maybe a dozen or so. So the big change is that there is no Jewish community... and living in Huddersfield as I do and just coming into Bradford for synagogue services occasionally, I find that the whole character of the town has changed, and in the area of the synagogue there are now much more Muslims in the area and very few Jews.
Tell me about your family background.
My parents are from totally different backgrounds ... My mother was born in St. Petersburg, her father was a journalist and they were "aristocracy" and very much distanced from traditional Orthodox Jewry and culturally my mother was totally, totally Russian. My father was born in a very traditional shtetl family in Lithuania and my grandfather sold milk on a cart, like Tevya and they lived in the shtetl in a small town in the Pale of Settlement. My father was one of ten children although only five of them survived childhood..................My father escaped a yeshiva education and went to study in Belgium economics and 1914 when the war broke out he joined the French army and after the war he decided to return to Lithuania and as an educated man he was sent to Berlin with a diplomatic mission where my mother also ended up and they met there.
So Joseph and I came to Yorkshire and that was where I met my father in law, and although we were married, we had been married in the ghetto in a registry office, and they were quite keen for us to be "legalised"; so we went to Reverend Israel Shtum, who married us with some prayers and a ring and my father in law had a little textile manufacturing company then in Ellend and Joseph and I both started working for him and then we both left and later I worked translating for EVW (European Voluntary Workers) and Joseph set up a business of his own, then I had my first son, Michael in 1950.
Joseph's factory, Kagen Textiles Ltd was producing blankets but he wanted to experiment with producing something that was both warm and dry -- a mixture of cotton on the outside and wool inside and a layer in between to keep dry -- and then as this did not sell, he made it into coats and called the material Ganex (from the end of Kagan and the beginning of textile GAN+EX) and it became very successful and our factory grew from a small hut to a large one, and Ganex became an important employer in the area, and took over a number of other factories. In the 1970's Harold Wilson, the then Prime Minister, who is a Huddersfield man himself, nominated Joseph for a Knighthood and so he became Sir Joseph Kagan.
How do you find living in Bradford?
I had a preconceived idea of England being full of people, who are sultry; don't talk to you, dirty mackintoshes and gloves. The first time I got on a trolley bus people said,"Hello luv, we haven't seen you before," I nearly fainted. People are fantastic, I found it wonderful, I loved every part, I am still an absolute chauvinist of Yorkshire in general but Bradford I have very warm wonderful memories. I love Yorkshire.