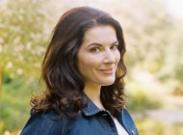 Back to search results
Nigella Lawson
by Zeddy Lawrence
She may by a 'domestic goddess', and daughter of a former Chancellor, but for all her charm and class, Nigella Lawson is descended from a petty thief.
The queen of the kitchen discovered her criminal past when she was retracing her roots for the BBC show Who Do You Think You Are?
Searching through archives in Holland, the celebrity chef learnt that one of her forebears Coenraad Sammes fled from Amsterdam while he was appealing an 18 month jail sentence for stealing a bag full of lottery tickets. He subsequently turned up in England, calling himself Conrad Joseph.
But, not all Nigella's ancestors were felons. In fact, her mother, Vanessa was heiress to the Lyons tea shop empire founded by her great-grandfather Samuel Gluckstein and grandfather Barnett Salmon. "One of the things about coming from a Jewish family", said Nigella, "is that whatever type of business you're in, food is always central."
Lyons was eventually taken over by Nigella's grandfather Felix, who served as an officer in the catering corps during the war. According to one family anecdote he may have been present at the liberation of Belsen, using his Lyons' expertise to help in the provision of food to Holocaust survivors.
Reminiscing about Felix and their grandmother Rosemarie, Nigella's brother Dominic recalled: "They knew the Nazis had them on the list of Jewish families to be taken care of."
He added: "I'm pretty certain that they'd manufactured their own cyanide pills that they would take if they were ever rounded up."
© The Jewish News & www.totallyjewish.com