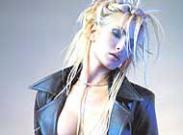 Back to search results
Caprice
by Zeddy Lawrence
Given our traditional take on Caprice Bourret – a leggy Los Angeles lovely lounging in lingerie – academia is understandably the last thing we consider when the face of Diet Coke springs to mind.
But for all the fizz and froth that goes with being a can-of-pop icon, the former Miss Teen California is, perhaps more than any other celebrity, evidence of a fascinating phenomenon that could have sociologists scratching their heads for centuries to come and which they'd no doubt term 'subverted stereotyping'.
For while we decry those who caricature Jews as all possessing certain physical features, in the case of Caprice, ironically many find it hard to accept that this blonde, blue-eyed beauty could be of the faith, simply because she shatters a mould we claim doesn't exist.
Note the Jewish magazine which ran an in-depth interview with the star in 1997, eliciting such quotes as "I go to shul on the holidays" and "I only date Jewish men because if I fall in love, I'll want to get married", only to pose the question at the end "Still can't believe she's Jewish?" before inviting readers to dial a hotline and vote on the matter.
And yet it was a very Jewish Caprice who at the equally Jewish Jewish Blind and Disabled annual dinner in 2005 had a chat with her chums from the just as Jewish Jewish News.
Okay she's not a frummer. "I'm more of a spiritual person than a religious person", admitted the model who the previous year donated part of her payout from a libel case to the charity she's supported for several years.
Nonetheless, the five foot nine stunner who has graced the cover of more than 300 magazines is more 'religious' than many. "I've been kosher for about 12 years," she said, adding. "I will raise my children that way."
© The Jewish News & www.totallyjewish.com