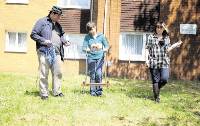 Back to search results
JTrails Leads Survey of Lost Medieval Jewish Cemetery
Date: 22/05/2009
An archaeological survey by JTrails of the site of a 13th century Jewish cemetery in Northampton has finally begun, 17 years after skeletal remains dating back to medieval times were found nearby.
Experts believe the cemetery, which is one of only 10 such sites in England, was situated in what is now Lawrence Court, in the town centre, between 1259 and 1290.
Their research seemed to be confirmed when bones discovered by workmen in a collapsed culvert in neighbouring Temple Bar back in 1992 were dated to the same period.
Now JTrails (part of the Spiro Ark Organisation) and a team of forensic archaeologists from Birmingham University has begun a survey of the area, hoping to discover evidence of the cemetery's enclosure walls, grave cuts and associated buildings.
The Director of JTrails and Anglo-Jewish historian and Northamptonshire resident, Marcus Roberts is leading the project and said: "This is potentially the last unexcavated known Jewish cemetery in the country and perhaps the only one accessible for study, so it is a site of huge national importance.
"We are trying to use non-intrusive methods. The object of the exercise is not to start digging things up. It will cost a lot of money and also we are dealing with a sacred burial site.
"If we do find evidence of the cemetery from this survey we may consider taking a look at the buildings or boundary walls but we would not want to dig up the graves."
The team spent yesterday marking out a grid on a turfed area to the south side of Lawrence Court and beginning the survey, which they hope to complete today.
Caroline Sturdy Colls, a PhD archaeology student at Birmingham University who is conducting the survey, said passing electrical current through the ground could also determine if there had been graves at the site in the past.
She said: "If you dig a grave you aerate the soil and a lot of moisture gets caught up in the soil. So when we look for grave cuts we look for an area of very low resistance, possibly with a mass within it causing high resistance, if there is all or part of a skeleton buried there."
The full article contains 363 words and appears in Northampton Chron & Echo newspaper.
Page 1 of 1
• Last Updated: 22 May 2009 8:19 AM
• Source: Northampton Chron & Echo
• Location: Northampton