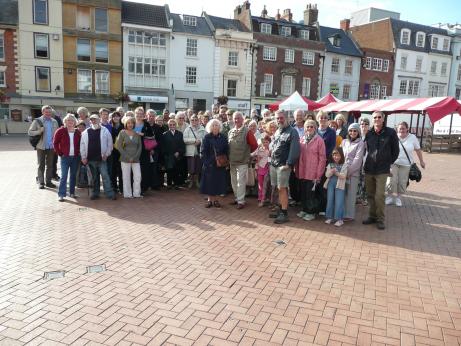 Back to search results
Inaugural Guided Walk of the Northampton JTrail
Date: 13/09/2009
On Sunday 13 September JTrails launched the first ever Jewish Heritage Tour of Northampton and a new exhibition on the Jews of Northampton, as part of the Northampton Heritage Open Days programme, and in partnership with the Northampton Youth Forum and Northampton Borough Council. JTrails also launched a Map and Trail of Jewish Northampton for self-guided heritage walks. The leaflet was kindly sponsored by the Money 4 Youth programme and Northampton Borough Council in association with the Youth Forum.
The inaugural walk attracted an unprecendented attandance of 120 participants and the walk and leaflet was enthusiastically recieved. In total 8,000 maps of the trail will be distributed and the leaflet was desigined with the assistance of the Youth Forum to make it as attractive to as wide an audience as possible and for young people.
The new exhibition revealed for the fist time the substantial presence of many Czech Jewish service servicemen and women in the town and we were also able to display a number of important original photographs of a centre set up for these service personnel many of whom were in the Pioneer Corp.