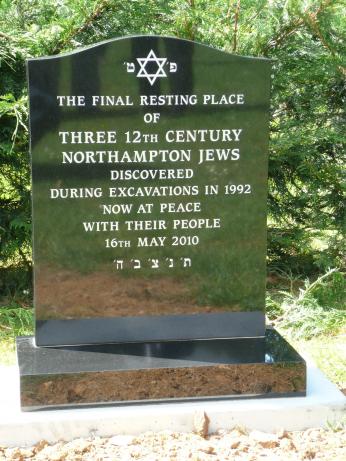 Back to search results
Ceremony lays to rest bones of three medieval Jews in the town
Date: 26/05/2011
The Chronicle and Echo of Northampton reports the stone dedication service to the three medieval Jews who were reburied in Northampton Jewish cemetery last year.
Published on Thursday 26 May 2011 14:09
A CEREMONY has taken place to mark the resting place of the bones of three medieval Jews found in the town.
The skeletal remains were found by archeologists in 1992 in Temple Bar, The Mounts, in an area known to be part of the town's medieval Jewish cemetery.
The bones were re-buried last year at the Jewish Cemetery in Towcester Road, Northampton, and, in-keeping with Jewish tradition a consecration ceremony was held at the site on May 22, a year after the burial.
The ceremony was attended by the chairman of the Northampton congregation of Jews, John Josephs, the Rev Malcolm Weisman, and director of Jtrails, Marcus Roberts.
Mr Josephs said: "One of the main commands of Judaism is to care for the dead and ensure that people get a decent burial.
"It's one of the most important things we do.
"That's why we felt we should be doing this and the tomb stone will be a permanent memorial."
Mr Roberts added: "This is a unique event where a local Jewish community has had the opportunity to re-bury medieval remains of their fore-bearers.
"It's a very proud moment for the community.
"It certainly puts everybody in powerful touch with their heritage."