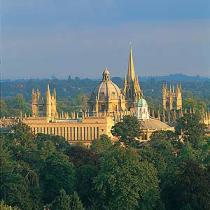 Back to search results
First National Jewish Heritage Trail launched in Oxford
Date: 26/06/2007
A new historical walk though Oxford's rich Jewish history, starting from the medieval Jews' cemetery to the site of Jacob's Coffee house – the first coffee shop in England
YARNTON, 26th June, 2007 --- National Anglo-Jewish Heritage Trail (JTrails) announces that it is launching the Oxford Jewish Heritage Trail at the Oxford Jewish Memory Day on Sunday 1st July, 2007.
JTrails is another initiative of the Spiro Ark, a well-known Jewish cultural and educational organisation, together with Anglo-Jewish historian, Marcus Roberts. The Oxford JTrail is the first of some 30 national trails to reveal England's hidden Jewish heritage. The trail takes about 3 hours to complete. It starts at the Botanic Gardens, the site of the medieval Jewish cemetery, or Jews' Garden, and ends at Queens Lane Coffee House, the site of England's first coffee shop. On the way the trail covers a number of important Jewish sites, such as St Aldates, once called 'Great Jewry Street', in recognition of its Jewish houses and Oxford Castle, the site of the hitherto 'lost' Jews' Mount. The trail also includes a visit to the site of the medieval synagogue that was swept away by Cardinal Wolsey to make space for Cardinal's College, now Christ Church and a sighting of Einstein's blackboard at the Hooke Museum.
Marcus Roberts, Director and co-founder of JTrails with the Spiro Ark, comments: "Oxford has a huge amount of hidden Jewish heritage and a long Jewish history spanning a thousand years, but unknown to many, even in the Jewish community. It has some of the richest provincial Jewish heritage in England and its museums and libraries hold a treasure trove of books and artefacts with a Jewish significance. As Oxford approaches its official thousandth anniversary celebrations, I would like to see the city's Jewish history better known."
The Oxford Jewish Memory Day, which will celebrate the history of Jews in Oxford, is a joint initiative between JTrails and the Oxford Jewish Congregation Heritage Committee. It will run from 10am to 2pm on Sunday 1st July at the Oxford Synagogue. It will include: a Virtual Tour of Jewish Oxford, "Faces of Jewish Oxford" exhibition; maps of Oxford Jewish heritage; Jewish Genealogy exhibition and workshops; a display Oxford's Mikvehs (Jewish ritual baths) – past and present; displays of children's heritage projects; Oxford Black history trail; and "Bring a Memory" exhibition.
Evie Kemp, convenor of the Oxford Jewish Congregation Heritage Committee, commented: "The Oxford Jewish memory day will be a fun and educational day to celebrate the long and rich history of the Jews of Oxford. It is a drop-in event, open to everyone."